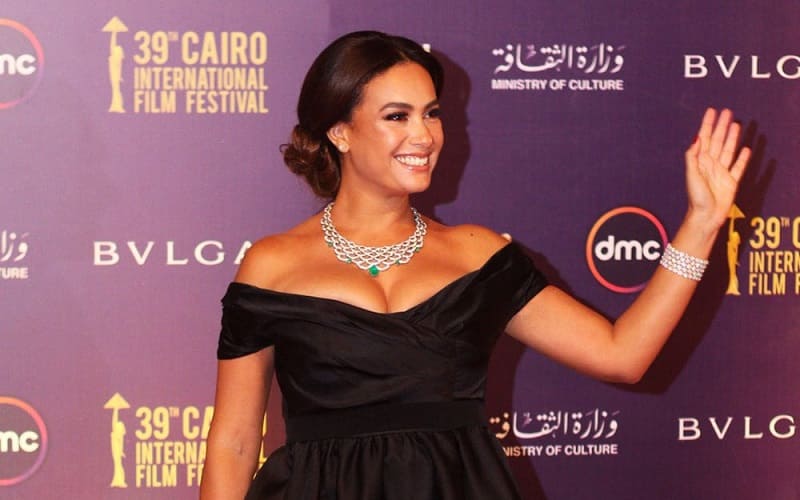 Hend Sabry is a Tunisian actress who caught the attention of Egyptian director Enas El Degheidy decades ago. The latter nominated her to play the lead role in the 2001 film "Mothakerat Morahkah." Her role in this film was a turning point in her acting career. She has since played many distinguished roles in Egyptian films, including "Mowaten Wa Mokhber Wa Haramy," "Banat Wasat El Balad," "The Yacoubian Building," "Ayez Haqqi," "Ahla El Awqat," "Malek Wa Ketaba," "Al Jazeera," "Ibrahim El Abyad," "Heliopolis," "Al Feel El Azraq," and "Asmaa," for which she won many international awards. 
The actress took part in her first comic role in the series "Ayza Atgawez" after which she secured a role in several drama series including "Critical Moments," "Maktoob," "Baed El Firaq," "3ard Khas," "Vertigo," "Halawet El Donia: Life is Beautiful," "Hagma Mortadda," and many others.
Alongside her work on the screen, Sabry is known for her humanitarian contributions. She works closely with the United Nations World Food Programme  (WFP) to raise awareness about hunger in the region. She has become a regional ambassador for the program. Sabry was named on a list of the 100 Most Powerful Arab Women in 2013 by CEO Middle East. She also received the 2020 Nobel commemorative pin and certificate for contributing to the ""2020 Nobel Peace Prize" awarded to the WFP.
She has also won several awards for her work on the screen. She received the Best Arab Actress Award from the Cannes Film Festival, the Best Film Actress Award in 2020 for her role in the film "Al Feel El Azraq," and the El Gouna Film Festival Award for her role in the Tunisian film "Noura's Dream." She also won the Best Actress Award from the Egyptian National Film Festival for the movie "Al Jazeera" and the Best Actress Award from the Namur International Festival in France for her role in the film "Clay Dolls."
In addition to the above, she also took home the Best Actress Award for her role in the film "The Aquarium" from the Rotterdam Arab Film Festival in The Netherlands and the Best Actress Award at the Peace Film Festival in Hollywood for her role in the film "Asmaa." 
She has not been catching a break on the screen. Some of her most recent acting projects include: "Noura's Dream," "The Passage," "El Kenz 2," "Al Feel Al Azraq 2," "Hagma Mortadda," "Keira W El Jinn," "Fadel & Neama," and "Finding Ola."